---
ADVERTISING IN ACTION
---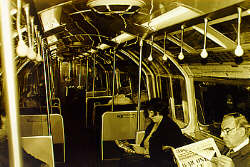 Subway art - Reclaiming a space near you!
Advertising is the shop window of every corporate body. It is their most protected and manicured feature. Advertisers would like us to believe that they are providing us with choices, raising our awareness of products and allowing us to make more informed choices. This is simply another advertisement. Advertising sells not a product but the public to the corporate bodies that need consumers to fatten their profits. We are convinced of our need to have whatever product is emblazoned across the page, the screen, the side hoarding in a stadium, outside of buildings in neon lights, on packaging itself, on the radio, even on public transport; or on the billboard - so it seems that some people have had enough, and they are taking back advertising, the work of such groups as AdBusters is well documented and here, on McSpotlight, we now have a Subverters page for their handywork. Reclaim and enjoy!

If anyone knows of any similar feats of ingenuity and daring, please send details to us at info@mcspotlight.org.

The following are scans sent into us of subway posters that have been adapted to reflect certain criticisms of a certain industry. Where the text is not sufficiently visible, we have put in the text and a brief explanation of the original 'board'.
Click here to see the tubevert in action!

a-z keen a-z

Are you keen to get all the facts regarding McDonald's attempts to silence their critics and hide the truth?

The McSpotlight Internet site provides regular reports from the McLibel courtroom, witness statements, company publications and confidential internal memos, scientific reports, newspaper articles, previously suppressed material and information on other multinational corporations.

(sticker):STOP multinationals exploiting people, animals and the environment

The original 'board' was for office supplies!
(Lesser text):

Right now an attack is being made on your right to free speech.
Right now your health and diet are under attack by the promotion of McJunk food.
Right now your world is being destroyed by faceless corporations.
Right now animals are being slaughtered to supply unhealthy products.
Right now your children are being brainwashed by mindless propaganda.
Right now is the time to fight back! Arm yourself with the facts, visit McSpotlight.

The original 'board' was for a well known insurance company

Click here to see the tubevert in action!
And another very similar one.
Click here to see the tubevert in action!

Draw Your Own
Conclusions
The Internet is your fast track into a virtually unregulated global forum where successful censorship is almost impossible.

In 1989 McDonald's issuad libel writs over the publication of a critical leaflet.

Now you can find out what McDonald's have been trying to hide.

Visit McSpotlight - a direct challenge to the opposition to the corporation's ongoing attempt to silence their critics.

The original 'board' was for a privatised rail service
Why Can't You Sneeze With Your Eyes Open?

Who cares, I'm going surfing
http://www.mcspotlight.org/

The original 'board' was for a well known high street building society.

Click here to see the tubevert in action!
Click here to see the tubevert in action!

What's Wrong With McDonald's

Food For The Thoughtful
Fully revised and updated with over 2,500 files on the worst places to eat and drink

http://www.mcspotlight.org/


The original 'board' was for a London based guide to London

Other feats of subvertising:
Billboards: McDonald's billboards get a pasting!.


---