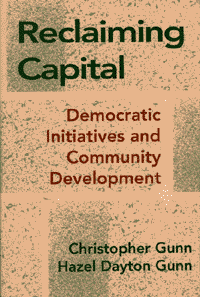 Towns...often eagerly await the day when the golden arches sprout next door to the local car dealership. But what really happens to a community with the arrival of the uni-burger?
"Simply magnificent. The authors tackle a topic of enormous importance, demonstrate an absolute mastery of a vast literature, mine the evidence for insightful gems, and write in a refreshingly straightforward and elegant manner."
Edward S.Greenburg, Program on Political and Economic Change, University of Colorado, Boulder
Reclaiming Capital will be a vital resource for activists, elected officials, and others concerned with urban and regional planning.


Christopher Gunn teaches economics at Hobart and William Smith Colleges. Hazel Dayton Smith is a freelance editor and weaver.