Argentinians Fight Back against Poisonous McDonald's
November 2001
Following confirmation of E. coli contamination in McDonald's chicken burgers and beef burgers in Buenos Aires, Argentina and similar contamination in Santiago, Chile, some Argentinian people have decided to fight back.
McSpotlight received the following email message and leaflet images from a disgusted Argentinian:
Dear McSpotlight,
Some weeks ago in Argentina there appeared a case of contaminated chicken hamburgers with the e-coli bacteria. After a second test (in other chicken hamburgers) discussion of this controversy was completely erased from all of the newspapers, and some journalist did a campaign (with the $$$$$ help of McDollars) supporting to the company.
After a couple of weeks, another case with the same bacterium appeared in Chile, near my country. Obviously nothing happened, and McDonald's started a massive advertising campaign, and now it continues to sell its burgers because they "taste good". And now Ronald has a big smile again.
Well, I suppose that there was money to erase the trouble...
So now I have started a little email campaign, and in a few weeks we will take it to the streets to spread our message to the people.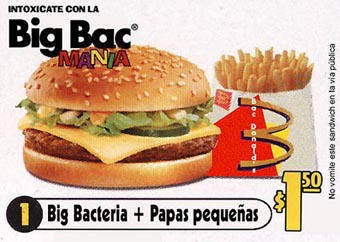 Translation:
1) Large Bacteria + Small Fries
2) (small letters) Do not vomit this sandwich in the street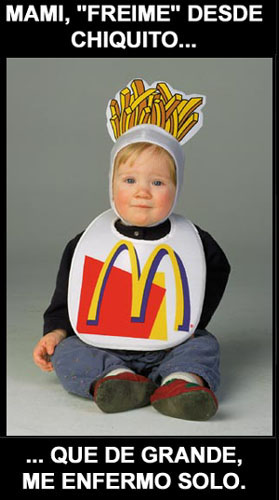 I suppose the translation goes like this:
"Cook me in oil" from the boy...
"Because when I grow up I'll get sick alone"
I hope that you understand.

Greetings from Argentina, and remember: The only good clown works in a circus, and no sell rotten hamburgers.