Local Residents Against McDonald's
---
Mountains Against McDonalds
Blue Mountains, NSW
Australia
UPDATE
6 June 2003
GREETINGS FROM MOUNTAINS AGAINST MCDONALD'S IN THE BEAUTIFUL BLUE MOUNTAINS, AUSTRALIA!
Please find below the latest update in our quest to have the WHOLE REGION protected against any further incursions from fast food chains. As you will see, the public response to the Draft Local Environment Plan was outstanding . . . BUT we have a long way to go. MEANWHILE, we have been advised that multi-national fast food chains are putting CONSIDERABLE PRESSURE on our State Government to allow them further access to our magnificent WORLD HERITAGE AREA.
Very best wishes
Anne,
for MOUNTAINS AGAINST MCDONALD'S (CORE)
"working for our environment, our community and a sustainable future"
---
Date: Friday, 6 June 2003 17:00
Subject: PROPRIETARY FOOD OUTLETS ON AGENDA AT NEXT COUNCIL MEETING

Many local people will have seen the "DLEP 2002 Update" in this week's BLUE MOUNTAINS GAZETTE, advising the formal review of Draft LEP 2002 with the commencement of a report at Council's Ordinary Meeting on Tuesday, 10 June, 2003.

This is a crucial time in our campaign for REGIONAL PROTECTION THROUGHOUT THE BLUE MOUNTAINS AGAINST ANY FURTHER FAST FOOD CHAINS. What is outlined in this report going before Council on June 10 is very important because it is supposed to:-
Note public opinion of Draft LEP
Note nature and scope of issues
Note requests for public hearing
CONSIDER AND ENDORSE CHANGES TO PARTS 1 and 2 of DLEP 2002 in PRINCIPLE.
It is our opinion the Report does not TRULY REFLECT THE STRENGTH OF COMMUNITY OPPOSITION TO FAST FOOD CHAINS IN OUR REGION.
OPPOSITION TO THE SETTING UP OF MULTIONATIONAL FAST FOOD CHAIN OUTLETS IN THE MOUNTAINS MADE UP HALF THE OBJECTIONS RECEIVED THE BY BLUE MOUNTAINS CITY COUNCIL TO ASPECTS OF ITS DRAFT LEP 2002 AND NEARLY A QUARTER (24.2%) OF ALL SUBMISSIONS RECEIVED.
ONLY 5 (1.5%) SUBMISSIONS ON THIS SUBJECT SUPORTED ALLOWING THESE OUTLETS IN THE MOUNTAINS.
THE 'PROPOSED VISION FOR A MORE SUSTAINABLE BLUE MOUNTAINS' REFERS TO OUR CIVIC AND COMMUNITY LEADERSHIP AND GOVERNANCE AS BEING: "INSPIRATIONAL - AT ONE WITH OUR COMMUNITY"
THIS REPORT ON PFOs does not reflect this vision.
ALL WE NEED IS LOCAL AND STATE GOVERNMENTS WITH ENOUGH WILL TO REFLECT THE COMMUNITY'S WISHES.
Despite the huge COMMUNITY RESPONSE TO THIS ISSUE, nothing much has really changed, apart from "fine-tuning" the proposed areas for PFOs (or "FORMULA FAST FOOD" as per the new definition) still within Katoomba and Springwood shopping precincts.
We believe it is vital that the PROPRIETARY FOOD OUTLETS section is removed from the Report for further discussion.
Please take time to visit BMCC's web site and become conversant with this current material, or visit the Chambers and pick up a hard copy with the June 10 Business Paper.
Currently, there are other issues within this latest Report MAM(CORE) is seeking legal advice on.
SPREAD THE WORD! TELL OTHERS ABOUT NEXT WEEK'S COUNCIL MEETING AND PARTICULARLY IF YOU ARE A CAFE OWNER, IN OTHER SMALL BUSINESS, TOURISM, OR HOSPITALITY , attend the meeting and PUT YOUR NAME DOWN TO ADDRESS COUNCIL.
Best wishes
Anne, for MAM(CORE) "Cloudlands"
'WORKING FOR OUR COMMUNITY, OUR ENVIRONMENT AND A SUSTAINABLE FUTURE'
---
MEDIA RELEASE
1 October 2002
MAM BEGINS 'SOS' TO THE WORLD!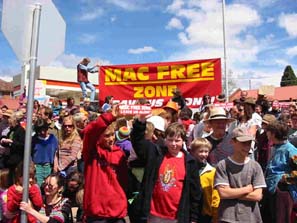 Hundreds of concerned residents took part in a community photo last Sunday at the proposed site for a drive-through McDonald's, in the heart of Katoomba's local café culture. Representing a cross-section of our community who believe the Upper Blue Mountains are special and should be a "Mac-free Zone", they held up banners and artwork for the photo session and volunteered to be part of various action groups such as concerned parents, doctors and health practitioners, small business, Mac-free youth or mountain artists, before converging on Katoomba's colourful and eclectic cafes to show their solidarity and support.

Over the last few years there have been several attempts by McDonald's to gain a foothold in the World Heritage-listed Upper Blue Mountains. An active community and a certain degree of good luck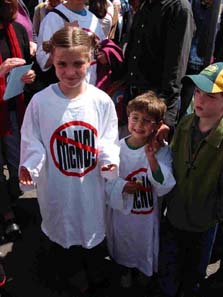 have kept them at bay. The scale of this current proposal (which has yet to go before BMCC as a Development Application) means we must DRAW ON THE WORLD COMMUNITY FOR SUPPORT.

"We chose to move our young family to Katoomba away from Sydney because we loved the fact that Katoomba village still had character. It will certainly lose all its uniqueness and join the ranks of the ugly, with McDonald's at its centre" said Katie Noakes, a South Katoomba resident and community photo participant.
Participants were also asked to fax/write to McDonald's headquarters in Australia on Worldwide Anti-McDonald's Day, on Wednesday 16 October. WE ARE ALSO ASKING THE WORLD COMMUNITY TO SEND A FAX to McDonald's Headquarters in Sydney Australia by dialling (your country's prefix + 2 +98756565) or writing to: McDonald's Australia, Administration Office, 21-29 Central Avenue, THORNLEIGH 2120 , SYDNEY AUSTRALIA.
The proposed McDonald's juggernaut threaten Katoomba's unique sense of place, as McDonald's may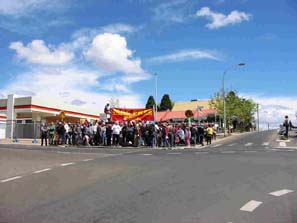 cquire not only a petrol station, but possibly a streetscape, on Waratah Street to develop a drive-through facility and car park, at THE MOST DIFFICULT TO NEGOTIATE AND CONGESTED INTERSECTION IN Katoomba.
The negative impact on Katoomba's numerous cafes and restaurants would be profound. There's only so much money circulating in a community. Any dollars spent at McDonald's would be money taken away from small business and out of our community.
As McDonald's derive much of their sales from drive-through, with this facility comes the risk of enormous amounts of ADDITIONAL litter generated from the site travelling far and wide throughout our World Heritage National Park. And any litter that is collected will most likely end up in Katoomba's landfill, which currently only has a life-expectancy of 5 – 10 years, a lose-lose situation.
There are few unique places where multi-national fast food chains have yet to proliferate. The Upper Blue Mountains is one such place. Mountains Against McDonald's would like to suggest to McDonald's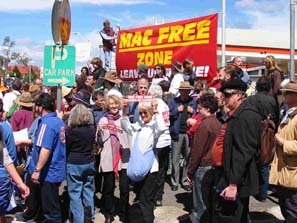 Corporation that they adopt a policy to leave places like Byron Bay, Port Douglas and Katoomba etc as SANCTUARIES from their quest for market saturation.
"A vocal and vigilant community in Byron Bay and Port Douglas has kept the golden arches and their kind at bay. In Katoomba we can do the same. However, as we are also a World Heritage area, in ensuing months MAM will be calling on the world community for support", said James Waugh, a MAM spokesperson.
Any enquiries about MAM's work can be directed to our email address:MAM@hermes.net.au

MOUNTAINS AGAINST McDONALD'S (CORE)
PO Box 280
KATOOMBA 2780, BLUE MOUNTAINS, AUSTRALIA
Email: MAM@hermes.net.au.