Local Residents Against McDonald's
HAROLD HILL
ROMFORD, ESSEX, ENGLAND
---
On the 24th of December 1996 a planning application was submitted to Havering Council that proposed the conversion of a public house in a residential area of Harold Hill into a McDonald's 'drive thru'. The council placed a barely visible site notice on the Pub and sent letters notifying around 100 of nearest residents.
Angry residents immediately began a campaign to oppose the proposal. They did their own mailout to a further 1,200 homes, alerting them to the proposal and requesting support. A petition of over 1000 names has now been handed in to the mayor and the councils planning department have received over 300 letters of objection.
HELP SAVE 'THE BOW & ARROW' PUB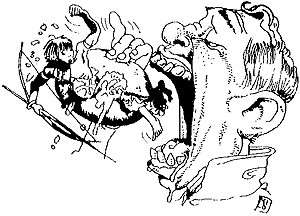 Local press and radio have covered the story.
Some of that coverage is available here.
---
For more info, or to get involved in the campaign, contact:
Graham Jackson 01708 344134 or Alan Lewin 01708 347015
---

Got something to say about opposition and resistance to McDonald's?
The Campaigns section of the Debating Room is for you.