Hello!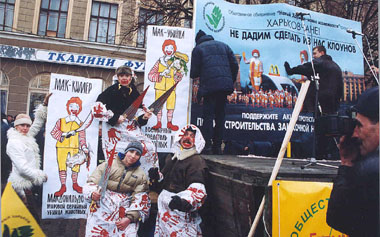 We are glad to inform you about our large-scale action, provided in order to protest the building of McDonald' s in the center of our city and also to protest the inhumane treatment of animals, provided by McDonald's company. Some public organizations (among them were: CETA "Life", Public Organization "New Kharkov - New Possibilities", Democratic youth society) were present on this action. The action was really unexampled due to it's size. There were 5000 -7000 people present on the central square on the city (the largest square in Europe and the third one in the world).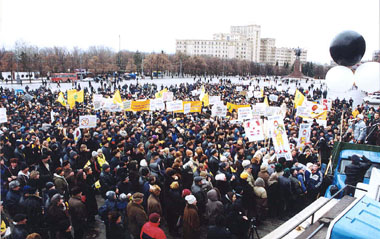 Our organization made a lot of posters and transparencies, which scoffed at McDonald's. People were dressed in the "bloody" aprons, and carried the "bloody" knifes showing how McDonald's treats the animals. It was written on the posters that " McDonald' s is the serial animals killer #1 in the world". We showed McDonald's as the organization which doesn't care about animals.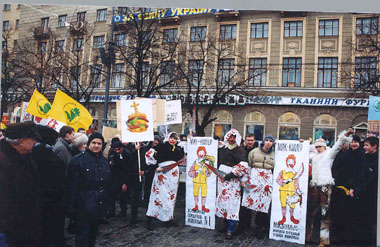 There were also Ukrainian mass-media and the deputies present on the action. The local authorities had to prohibit the building of the restaurant.
Attached you will find the pictures from this action. You can use them as you want. I hope that you will join our great victory!
Sincerely yours
CETA "Life"
Center for the Ethical Treatment of Animals «LIFE», named after Leo Tolstoy
WSPA member of society in Ukraine
Member of PETA (People for the Ethical Treatment of Animals) USA
Regional representative in Ukraine of the Fur Free Alliance, Switzerland
E-mail: cry@3s.kharkov.ua