WARNING - the information on this page is company propaganda, produced to persuade you to buy more of McDonald's products. Parts of it may be deliberately misleading.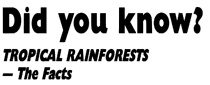 It has been said that McDonald's is involved withthe destruction of rainforests of Central and South America in order to raise cattle for hamburgers.
LETS PUT THE RECORD STRAIGHT. NOWHERE IN THE WORLD DOES McDONALD'S USE OF BEEF THREATEN OR REMOTELY INVOLVE THE TROPICAL RAINFORESTS.
In the UK McDonald's uses 100% EC produced beef, in Canada they use 100% Canadian beef, in the United States they use 100% US beef.
McDonald's restaurants in Central and South America (Argentina, Brazil, Costa Rica, Guatemala, Mexico, Panama and Venezuela) only use suppliers who document that their beef has come from long established cattle ranches - not rainforest land..
It is known that rainforest destruction threatens the well-being of the environment.
McDONALD'S HAS NO PART OF IT.
The Company will continue to monitor and adapt policies and practices as necessary to protect the global environment on which we all depend.




Produced by:
The Public Relations Department
McDonald's Restaurants Limited
11-59 High Road
East Finchley
London N2 8AW