WARNING - the information on this page is company propaganda, produced to persuade you to buy more of McDonald's products. Parts of it may be deliberately misleading.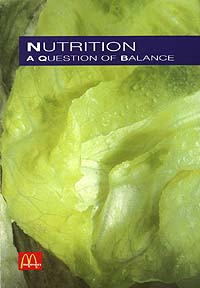 Staying fit and healthy is a priority nowadays for everyone. A leading concern is how the food we eat affects our health

What we each need to do to be healthy depends on all sorts of factors, such as how old we are, the sort of lifestyle we lead, the amount of exercise we take and the speed at which our bodies burn up energy.

What we do know is that taking plenty of exercise and eating a nutritious, varied and balanced diet helps us look and feel healthier.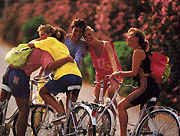 According to the experts, that means eating a good mix of different types of foods. Bread, cereals, potatoes, fruit, vegetables, dairy products and meat are all valuable foods providing plenty of nourishment. Fattier foods should be eaten sparingly, and we should choose lean meat and low-fat dairy products where possible.
At McDonald's we have a responsibility to help our customers eat a healthy balanced diet. With a broad range of customers from different age groups and walks of life, we have to ensure that any nutritional changes are designed to help them all. We therefore continually review our products to ensure that we fulfill our commitment to provide high quality food.



The McDonal's view is that food should do you good as well as taste good.
Most of our menu is made from a few basic natural ingredients - meat, fish, eggs, grain and potatoes.
Quality is very important to us. We will only serve our customers food of the highest standard of quality, nutrition, hygiene and food safety. In other words, food we would be happy to serve in our own home.
This includes our hamburgers, which are 100% pure lean beef with no additives whatsoever. Additives are only used in our food when absolutely necessary, and we are constantly looking to reduce their use.
New menu items are added with healthy eating in mind. Recent examples available in some restaurants include mineral water, yoghurt, fresh orange juice, Diet Coke, salads and pizza.

No matter how wide the choice, we know that most of our customers come to McDonald's for our traditional menu items, like a Big Mac, or a Cheeseburger and French Fries.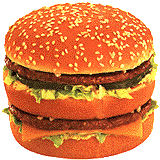 To help all our customers eat healthily, we are constantly making our menu even more nutritious. Our first aim is to reduce the amount of fat in some menu items, whilst not affecting the quality or the taste.
So far we have replaced the lard in our buns with vegetable oil, and we now use water-based instead of oil-based dressings. We have also reduced the amount of fat in our cheese slices, and are looking at ways to reduce the salt and sugar in our menu.



Just as important as eating the right food is taking regular exercise.
This can help you control your weight, improve your blood circulation and help your heart work efficiently.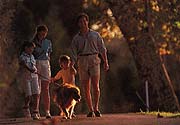 An ever wider range of activities are available at sports clubs and gyms, but even if organised sport or aerobics doesn't appeal, you should at least try to walk as much as possible and slowly build up a routine of exercises to do at home.


Every time you eat at McDonald's you will be eating good, nutritious food.
Variety is the order of the day. If you eat a Big Mac and french fries regularly, you should ensure that at other times you eat different types of foods so that your diet is balanced and you are eating plenty of minerals, vitamins, protein and fibre. Think about variety when planning your meals.
The accompanying tables help you to select the best McDonald's meal for yourself, by listing exactly what goes into every single item on the McDonald's menu.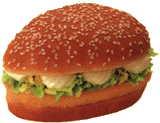 McDonald's meal combinations can form part of YOUR balanced diet. Here's a selection of popular combinations, with the information you need to make your choice.
Hamburger, apple pie, milkshake
McChicken sandwich, regular fries, medium diet Coca Cola
Big Mac, strawberry trifle, regular Coca Cola
Filet-o-Fish, regular fries, orange juice
Filet-o-Fish, garden salad, sugared donut, mineral water