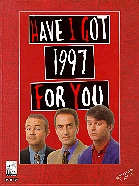 'Have I Got 1997 For You'

Published by BBC Books,
in association with Hat Trick Productions
© 1996 - ISBN: 0 563 38783 1

Written by Angus Deayton, Ian Hislop & Paul Merton
Edited by Colin Swash


Have I Got News for You is an hysterically popular satirical British TV show. Shown weekly, its irreverent view of current affairs often brings it into controversy. In the 'odd one out round' of one episode, the question was asked, which is the odd-one-out from the following; the back legs of a mouse; the E Coli 157 bacteria; the nematode worm; and some raw sewage.

Now you can get the book 'Have I Got 1997 For You' and re-live the rib tickling excerpt again and again.