BEYOND BEEF
The Rise And Fall Of The Cattle Culture

by Jeremy Rifkin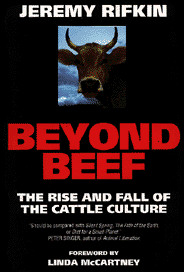 The Western world has a love affair with beef. But how many people are aware that the real costs of the cattle culture are animal suffering, global hunger and poverty, and environmental devastation?
In this brilliant and scathing examination, Jeremy Rifkin cuts through the myth of the cowboy to reveal the international intrigue, political giveaways, and sheer avarice that transformed the great American frontier into a huge cattle breeding ground. He illustrates the gross injustice of a world in which the poorest peoples have been starved to support the appetites of a handful of wealthy nations.
"So many powerful arguments...Before starting Beyond Beef, take a third of a pound of ground beef, broil it for about four minutes on each side, place it on a bun, and then savour every bite. You're not going to want another hamburger for a long, long time."
Newsweek
"An extremely important book...In every generation there is a handful of people whose work contributes to the evolution of consciousness. Jeremy Rifkin is one of the seminal minds of our age."
JOHN ROBBINS, author of Diet for a New America
"A revelatory and revolutionary book that will change your attitude to meat for good."
JULIET GELLATLEY, former Director, The Vegetarian Society
"A vivid tale of how humanity has exploited cattle and how beef eating is damaging the health of the earth and its inhabitants. Essential reading."
JOYCE D'SILVA, Compassion in World farming

Did you know?
Cattle? There are currently 1.28 billion cattle populating the earth.

Grazing? They graze on nearly 24 percent of the landmass of the planet and consume enough grain to feed hundreds of millions of people.

Meat? Their combined weight exceeds that of the human population on earth.

Global Warming? Cattle are also a major cause of global warming. They emit methane, a potent global warming gas, blocking heat from escaping the earth's atmosphere.

Grain? Cattle and other livestock consume over 70 percent of all the grain produced in the United States.

Famine? Today about one-third of the world's total grain harvest is fed to cattle and other livestock while as many as a billion people suffer from chronic hunger and malnutrition.

Disease? While millions of human beings go hungry for lack of adequate grain, millions more in the industrial world die from diseases caused by an excess of grain-fed animal flesh, and especially beef, in their diets.

Published in 1994 by:

Thorsons
77-85 Fulham Palace Road
Hammersmith, London W6 8JB
England
ISBN 0 7225 2979 1
© Jeremy Rifkin