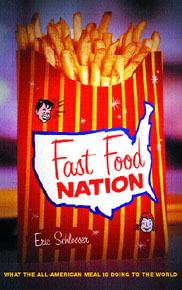 You are what you eat. But do you really know what you're eating?
Britain eats more fast food than any other country in Europe. Rates of obesity and food poisoning spiral upwards, but it seems we just can't get enough of those tasty burgers and fries.
This myth-shattering book tells the story of America and the world's infatuation with fast food, from its origins in 1950s southern California to the global triumph of a handful of burger and fried chicken chains. In a meticulously researched and powerfully argued account, Eric Schlosser visits the labs where scientists re-create the smell and taste of everything - from cooked meat to fresh strawberries; talks to the workers at abattoirs with some of the worst safety records in the world; explains exactly where the meat comes from and just why the fries taste so good; and looks at the way the fast food industry is transforming not only our diet but our landscape, economy, workforce and culture.
Both funny and terrifying, Fast Food Nation will make you think, but more than that, it might make you realize you don't want a quick bite after all.
'Fast Food Nation has lifted the polystyrene lid on the global fast food industry … it could even change the way we eat' Observer

'Not only will it make you think twice before eating your next hamburger … it will also make you think about the fallout that the fast food industry has had on the social and cultural landscape' The New York Times

'The grisliest description of fast food ever written' Daily Telegraph

'If the idea of a three-storey, illuminated Ronald McDonald strikes you as a blight on the landscape, this book is for you' Globe and Mail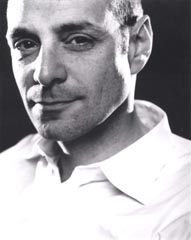 about the author ERIC SCHLOSSER has been investigating the fast food industry for years. In 1998, his two-part article on the subject in Rolling Stone generated more mail than any other item the magazine had run in years. In addition to writing for Rolling Stone, Schlosser has contributed to The New Yorker and has been a correspondent for the Atlantic Monthly since 1996. He won a National Magazine Award for "Reefer Madness" and "Marijuana and the Law" and has received a Sidney Hillman Foundation Award for Reporting. His work has been nominated for several other National Magazine Awards and for the Loeb Award for business journalism.


what the papers say

New York Times - "Here is another side of the unfettered money culture that has been celebrated as an exciting orgy of entrepreneurialism and opportunity."

San Francisco Chronicle - Eric Schlosser's "Fast Food Nation" is a good old-fashioned muckraking expose in the tradition of "Th American Way of Death" that's as disturbing as it is irresistible ..."

USA Today - Fast Food Nation is the kind of book that you hope young people read because it demonstrates far better than any social studies class the need for government regulation, the unchecked power of multinational corporations and the importance of our everyday decisions."

The Washington Post - "Schlosser is part essayist, part investigative journalist. His eye is sharp, his profiles perceptive, his prose thoughtful but spare;..."

Christian Science Monitor - Not all of this exposé is dark and dreary. Most, but not all. While the prevailing wisdom suggests the highly efficient business model of McDonald's and other chains is the only way to profit, Schlosser finds evidence to the contrary."

Evening Standard (UK) - If your biggest worry about eating at a fast food restaurant is whether to order a burger and fries or barbecue grilled nuggets and a strawberry milkshake, then swallow hard and think again.

Salon - Schlosser never comes off as a "sky is falling" street-corner raver or bullheaded finger-pointer. His fury is evident, but his voice is measured and his methods are subtle."


extracts Extract from the Guardian (UK) Saturday, 7th April 2001.