Children around the world are bombarded with television advertisements telling them bad food is good.
The UK has the highest level of advertising to children in Europe, according to a study by Consumers International released in November comparing advertising during 20 hours of children's television. Only the USA and Australia had higher levels of advertising.
In the UK there are no restrictions on the amount of TV advertising to children beyond those which apply to all advertising. Many other countries have restrictions.
Sweden and Norway do net permit any television advertising to be directed towards children under 12 and no adverts at all are allowed during children's programmes.

Australia does not allow advertisements during programmes for pre-school children.

Austria does not permit advertising during children's programmes, and in the Flemish region of Belgium no advertising is permitted 5 minutes before or after programmes for children.

Sponsorship of children's programmes is not permitted in Denmark, Finland, Norway and Sweden while in Germany and the Netherlands, although it is allowed, it is not used in practice.
In virtually all the countries in the survey (Australia, Austria, Belgium, Denmark, Finland, France, Germany, Greece, the Netherlands, Norway, Sweden, the UK and the USA) there were more ads during kids' TV for food than any other type of product, with ads for confectionery, breakfast cereals (mainly sweetened) and fast food restaurants making up over half of all food advertisements in the survey.

McDonald's topped the European list

The most prolific advertiser overall was McDonald's with commercials for the fast food chain found in virtually every country. A previous study has shown that just over half of Australian 9 and 10 year-olds think that Ronald McDonald knows best what is good for children to eat.

"Advertising is often credited with promoting that bastion of consumer freedom - choice," the report states. "But the choice that food advertising presents children is largely between one candy bar and another, the latest savoury snack or sweetened breakfast cereal or fast food restaurant - hardly the kind of choices which encourage a healthy, balanced diet."

The report calls for greater protection of children from misleading, unfair or excessive amounts of advertising particularly for foods which discourage healthy eating, and for more positive nutrition messages to children on television.
A Spoonful of Sugar - Television food advertising aimed at children; an international comparative survey, Consumers International, 24 Highbury Crescent, London N5 1RX (tel 0171-226 6663, fax 0171-354 0607)
November 1996.
---
See also :
A Spoonful of Suger - Details about the report and how to order it.
Battle of the Coco Pops - The Guardian; 27th January 1997
The survey found that over 50% of children's adverts were for these 11 products.
Kellogg's Coco Pops
McDonald's
Birds Eye Potato Waffles
Sugar Puffs
Campbells Meat Balls
Milky Way Magic Stars
Cadbury Wispa Gold
Maltesers
Mars Bar dark
Kentucky Fried Chicken
McGain Southern Fries

British children are exposed to the most food advertising in Europe, and the majority of products encourage poor eating habits.....
... advertising is dominated by adverts for foods that do little to encourage a healthy diet while adverts for healthier foods rarely appear.
The 1996 figures from the Consumers International show a staggering 95% of advertisements were for foods that encourage a fatty, salty, sugary diet. The survey found only a handful of advertisements for healthier foods, such as kiwi fruit, frozen peas and low-sugar cereals.
Cybertots on the net
A survey of Internet advertising directed at children by the Washington-based Center for Media Education discovered unfair and deceptive forms of marketing which are outlawed in other forms of media and whic invade children's privacy through solicitation of personal information.

'Advertising and content are seemlessly interwoven in online 'infomercials' for children,' says the report. 'Children can spend hours playing width such popular 'spokescharacters' as Tony the Tiger, Chester Cheetah and Snap! Crackle! and Pop! The report calls for greater safeguards on Internet marketing.
Web of Deception, Threats to children from Online Marketing, Center for Meida Education, 1551 K Street, NW, Suite #518, Washington DC 20005, USA./ Tel (202) 628 2620 Fax: (202) 628 2554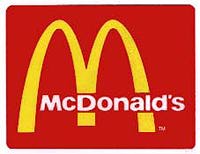 Burger chain McDonald's have scored a publicity coup by persuading well-reputed Early Learning Centre toy stores to promote McDonald's children's parties.
If you think the ELC should not be sliding down the slope to junk food, write to their Customer Services, Early Learning Centre, South Marston Park, Swindon SN3 4TJ