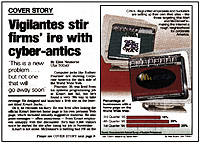 Vigilantes Stir Firms Ire With Cyber-Antics
'This Is a New Problem .....But Not One That Will Go Away'
By Ellen Neuborne
USA Today:
Computer jocks like Rodney Fournier are showing Corporate America the dark side of the World Wide Web.
Fournier, 30, was fired from his systems programming job at Kmart last fall, but he's found a very 90's way to take revenge: He designed and launched a Web site on the Internet titles Kmart Sucks.
On it, he recounts his story: He was fired after linking the official Kmart Internet home page to his own personal Web page, which included sexually suggestive material. He also posts messages - often anonymous - from Kmart employees unhappy with the discounter. He's had 9,000 visitors since he started the site after losing his job in November.
Kmart is not alone. McDonald's is battling bad PR on the Web. Wal-Mart is plagued by an Intenet huckster spreading a "How to Rip-Off Wal-Mart" gospel. Hasbro was horrified to discover an eye-popping adults-only Website named Candyland - the same name as the toymaker's popular children's game.
In the past year, businesses have rushed to get on the Internet - especially the World Wide Web, the graphically based portion of the global computer network. Last month, 25% of U.S. companies had their own Internet prescence. Retailers and marketeers embrace it as cheap, high profile publicity.
But many are discovering what technology companies have known for years: The Internet can a rough neighbourhood. Critics, disgruntled employees and hucksters now have a cheap forum with an expanding audience. And corporations are scrambling to deal with them.
"Big companies are used to being in control of information related to them. The recipients of that message have had very little opportunity to respond," says Fred Cate, an Indiana University law professor who specializes in electronic information law. "The Internet is a place where everyone is as effective a speaker as they are a listener."
Kmart officials confirm Fournier was fired for violating its Internet policies - using the official Kmart page to promote his own personal page and receiving sexually explicit images. They aren't amused by his cyber-antics.
"Our lawyers have contacted him and instructed him to stop misusing our logo and our name," says Kmart spokeswoman Shawn Kahle. Fournier has made some changes to the page. He now calls it The Mart Sucks and he uses a blue K instead of a red one. But he has no plans to quit his Kmart bashing. In fact he's starting another web site, called Corporate America Sucks.
The lack of legal precedent for the Internet makes battling Fournier a challenge, says Kahle. In the brave new world of cyberlaw, its unclear what, if anything, Fournier is guilty of. "This is a new problem - sometimes its legal, sometimes it's a public relations issue - but it's not one that will go away soon," she says.
Other Internet hotspots:
McSpotlight

Devoted to trashing McDonald's nutrition and environmental policies, this web site, open since Feb 16 has recorded more than 135,000 "hits" or virtual visitors. It's run by supporters of two British activists who are being sued for libel by McDonald's.

"Corporations will have to be more accountable because their critics have this new medium in which they can expose them to the whole world for very little money,"
says McSpotlight's Franny Armstrong.
Cheeseboyl

In a poular investing forum on America Online, a visitor with the screen name 'Cheeseboyl' has been a vociferous critic of Summit Technology, a maker of insurers used for eye-surgery. Cheeseboyl - aka Alan Dinicola, a 28 year-old policeman from Woodbridge, New Jersey - has criticised Summit's stock as overvalued and encourages fellow investors to sell.

"I am an investor and my only constituency is my wallet," he says. Summit's response: After mo>
---
Transfer interrupted!