Have I Got News For You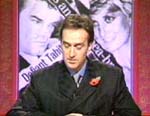 Ian Hislop, Angus Deayton, and Paul Merton
4 November 1995
Have I Got News for You is an hysterically popular satirical British show. Shown weekly on BBC2 its irreverent view of current affairs often brings it into controversy, as evidenced by this rib tickling excerpt from one of their shows, on McDonald's and McLibel. The show has been running for over 4 years.

Angus Deayton, intensely sarcastic anchor: Host
Paul Merton, funny bloke: Panel member
Ian Hislop, as the editor of Private Eye has been sued for libel more times than there are McDonald's Restaurants: Panel member
---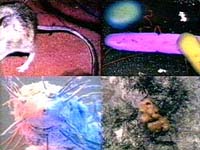 Angus
And now time for our odd one out round - rearing its 4 ugly heads from which one is to be chosen as the outstanding beauty. Paul your 4 visions of loveliness are: the back legs of a mouse; the E Coli 157 bacteria; the nematode worm; and some raw sewage.
Paul
Are the back legs of a mouse the only thing that hasn't been offered a job on Channel 5?
I think this is McDonald's. Is this the things that have been found in kitchens? Have McDonald's invented a new cheese-burger that's got the back legs of a mouse? You order it and it comes walking towards you - in a few years time it will have a little voice box so it can speak to you as you're eating it - "been drinking coffee have we sir?"
Ian
McDonald's are notoriously litigious.
Paul
I know! I have posed this as a question rather than a statement. I mean, its things found isn't it?
Angus
Yes, I have to own up. you're absolutely right. As we see them again, they have all allegedly been found in McDonald's food. Except...
Paul
Oh, yes of course, uhm. Is there a beefburger there? There isn't is there! It must be that...I'd remember that one on the bottom left (nematode worm) - it's nibbling the lettuce. Uhm. The back legs of a mouse.
Angus
Ian, do you want to have a try?
Ian
It must be the Jeffrey Archer (raw sewage).
Angus
The raw sewage. Yes. It's the right answer, so you'll have to share the points. That's the only one that hasn't found in McDonald's food. Despite this week's courtroom allegations that raw sewage flooded the kitchen of their Colchester branch. McDonald's staff eventually cleaned the sewage up without food being contaminated; although it would have been a brave man who tried the chocolate milkshake that afternoon.
The E Coli bacteria in a McDonald's restaurant was said by the Department of Health to be responsible for a major outbreak of food poisoning in Preston. McDonald's took immediate action by renaming it the "E. coli McBacteria".
In 1989 McDonald's apologised to a customer who found a nematode worm in his Filet-O-Fish, although they insisted that the worm was perfectly harmless because it was dead. Presumably because it had eaten some E Coli bacteria.
In 1992, Eric Schneider took a big bite out of the "McRib" he'd just bought and discovered he was eating the rear end of a mouse. There's a difference at McDonald's you won't enjoy.