NBC News Report on McSpotlight
- McSpotlight: Using the Internet as a tool of social activism -
First Aired Wednesday April 17, 1996

Anchor lead-in: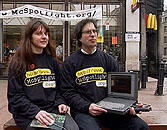 "Taking on big business has always been a David versus Goliath battle. But in the age of the Internet, the rules of engagement have changed.

In tonite's Cyber Seven report, Mike Lawrence takes us to London England, where activists are using the world wide web as part of a beef with McDonald's."
Dave Morris, McLibel defendant:

"This will be the final nail in the coffin for McDonald's efforts to silence their critics"
Mike Lawrence:

"Two months ago, standing outside a London McDonald's, two British activists put McDonald's on trial around the world... simply by pushing a button on a laptop computer.
Helen Steel, McLibel defendant:

"McDonald's spends 1.5 billion dollars a year promoting their point of view around the world. This is a chance for people to hear alternative points of view."
Voiceover:

"Helen Steel and Dave Morris are being sued by McDonald's for what they say. They've been tied up in court for 2 years. The McLibel trial is now the longest running civil case in British history.

But now, volunteer supporters of Steel and Morris have turned the tables, putting their anti-McDonald's campaign, and the case, on the Internet... virtually for free."
Franny Armstrong, McSpotlight volunteer:

"There was a huge influx of people saying I can do this, I can design, I can program - from all over the world, and this international network grew up of people who never met each other"
Voiceover:

"The McSpotlight site contains evidence to support claims that McDonald's is encouraging kids and adults to have an unhealthy diet, that animals and employees are unfairly treated to get McDonald's food to market, and that the company is damaging the environment. For it's part, McDonald's spokesmen say they're concerned with this kind of use of the Internet worldwide, but have no way to police it. Which doesn't bother free speech advocates at all. "
Daniel Weitzner, Center for Democracy and Technology:

"countries that want to control their citizens... or corporations...are gonna be faced with real problems here. But I think that's all for the better"
Voiceover:

"No ruling is expected in the British libel case against Steel and Morris until Fall. But just in case, volunteers have posted the McSpotlight website in the Netherlands, Finland, the U.S. and New Zealand to make it harder to shut down.
Franny Armstrong:

"We're hoping that this will be a test case where other corporations will realize that the same thing can happen to them as happened to McDonald's, unless they start cleaning up their act."
Mike Lawrence:

"The traditional David versus Goliath battle has now changed. Goliath still Has the bigger stick-money. But with the Internet, David now has the loudest sling-shot the world has ever known. I'm Mike Lawrence, 7 news"
Info: Mcspotlight web address: http://www.Mcspotlight.Org