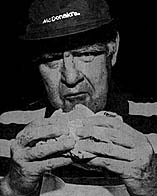 | | | |
| --- | --- | --- |
| occupation: | | Non-Executive Director of McDonald's UK |

previous experience:

Ingham was Margaret Thatcher's press secretary during her 11 year reign. He gained a reputation as a manipulator of the media who was very close to Thatcher. For several government ministers (who were out of favour with the supreme one), the poisoned words of Mr Ingham to the press marked the beginning of the end of their time in office.
Ingham has been a non-executive director of McDonald's UK since 1991. In his regular column for PR Week in June 1995, Sir Bernard described the oil company Shell as "contemptible" for failing to dump the Brent Spar oil platform in the North Sea, following concerted campaigning by environmentalists. He described the decision as "utter capitulation to the anti-commercial forces of eco-terrorism". Presumably then, Sir Bernard wasn't informed of the arrival in London of three McDonald's Corporation Directors in 1994 and 1995. They were flown over from the USA to negotiate a settlement with the McLibel Two in order to see if the defendants would allow the Corporation to back out of its increasingly embarrassing battle with the 'anti-commercial force of eco-activists'.

quotes: