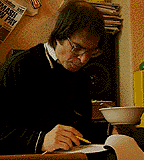 Subject:
Interview with Helen Steel and David Morris, Defendants in the McDonalds Libel Lawsuit
Date: Feb 12, 1994

---
(Interviewer in Italics)
Q. What is the background of events surrounding the service of writs on you?
A. London Greenpeace launched its campaign against McDonald's in 1985, to try to co-ordinate and strengthen world-wide opposition to McDonald's and the 6 page factsheet (which is the subject of the libel action) was produced a year or so later. By 1990 when the writs were served, the group was less involved with the worldwide campaign, and it is ironic that we got the writs at that time.
Q. How did McDonald's obtain information about London Greenpeace campaigners?
A. In 1989/90 they sent spies to the groups' meetings, and followed people home afterwards. London Greenpeace is an open group, and anybody can attend meetings and participate, so the spies were able to abuse the group's trust in order to do their dirty work. We have received 4 witness statements from McDonald's, made by their infiltrators.
Q. What is McDonald's case against you?
A. Their case is that we distributed or allowed others to distribute the 6 page factsheet to members of the public. They claim that virtually all of the factsheet is libellous, and they want damages and an injunction to stop us from distributing the factsheet or any other leaflet.
Q. What is your defence?
A. McDonald's have to prove that we distributed the factsheets. We have to prove that the facts in the factsheet are true (justification) and that the comments are a fair opinion, based on the facts (fair comment).
Q. Were any other London Greenpeace campaigners involved?
A. McDonald's served writs on 5 people, we were only allowed 2 hours worth of legal aid and none of us knew anything about libel proceedings so the whole thing was very confusing. We were advised that because legal aid is not available to fight libel cases, and the law is very complex, the odds were stacked against us and the risks were great. The other 3 felt intimidated and overwhelmed by the thought of trying to fight it and so apologised. McDonald's tried to put this over as though London Greenpeace itself had apologised, and this was printed in a couple of newspapers, one of which later printed a correction after the group complained.
Q. Why did you decide to fight on?
A. We feel this is a matter of free speech, people should have the right to put alternative views across and criticise multinationals, especially those who spend a fortune pushing their own propaganda. We have nothing to apologise for, it is McDonald's who should be giving out apologies. They have sued many groups and individuals in this country in order to censor and intimidate their critics, and we felt it important that they didn't continue to get away with this unchallenged.
Q. What happened in the legal proceedings after you served your defence?
A. For the next couple of years there were requests on both sides for more details of each sides' case (further and better particulars). McDonald's dragged this stage out asking for more and more details, hoping that we would be exhausted and lose interest in fighting on. They then realised that we were not going to give in, and since the beginning of this year they have deliberately had the proceedings speeded up in the hope that we wont be able to keep the pace. They are also deliberately withholding information in their possession in order to make it harder for us to prepare our case.
Q. What is the position on Discovery?
A. Discovery is the legal obligation of each side to disclose to the other side all the documents in their possession which are relevant to the issues in the case. McDonald's have deliberately withheld relevant documents and instead have substituted a lot of documents which are not really relevant to the case. We tried at 9 hearings to get proper Discovery but each time the Judge adjourned our application without making a decision. Finally, in December, they were ordered to hand over some more documents but only in limited areas of the case, so effectively they were let off the hook.

A similar situation arose with the Interrogatories (a series of questions about the issues in the case) which we asked them. They refused to answer them, and the court refused to order them to provide answers. We gave full discovery, and were ordered to provide answers to McDonald's Interrogatories in March last year.
Q. What about the exchange of witness statements?
A. The timetable originally set down by the Judge was that exchange of witness statements should occur two months after Discovery. This is the normal procedure because if a document is disclosed which shows that something pleaded is true, then there is no need to call a witness about that matter, so time and money are saved. Discovery also comes first so that witnesses are able to comment on the documents disclosed, to say whether they agree with the contents or dispute them.

While we were still trying to get proper discovery from McDonald's, long past the time when they should have given it, the original deadline for exchange of witness statements passed and McDonald's then persuaded the court that despite them not having given proper discovery, we should have to stick to the deadline set for witness statements.

In July 1993 the Judge ordered that we had to serve all our witness statements within three weeks. We had to obtain our witness statements from around the world in those three weeks on the small amount of money that we have. We did manage to obtain 65 signed statements, including 30 or so by experts on the various issues, but there were many more that we just could not get in time.

McDonald's served 40 witness statements mainly from their own corporate officers and employees, also from four experts. In January this year, just a month from when the trial is due to start, McDonald's served a further 47 witness statements. This was yet another attempt by them to make it impossible for us to prepare the case in time for trial.
Q. I understand that libel cases are normally heard by a jury, but that McDonald's applied for a non-jury trial and this request was granted by the Judge.
A. McDonald's argued that the issues in the case are too complicated for a jury to understand. We believe that the opposite is true and that the public have in recent years become more aware of these issues, which is exactly why McDonald's want to avoid a jury. They also argued that because we were unwaged they would be paying for the costs of the trial whoever won, so the trial should be by Judge alone as this would be cheaper. This argument is outrageous, they knew we were unwaged when they took out the writs against us but that didn't deter them.

By putting forward this argument they are saying blatantly that you have no right to a fair trial and to justice unless you are rich enough to pay for it. The Judge confirmed that this is how the Courts work when he granted their request and ordered that the trial would be heard without a jury.
Q. Have you received any legal help?
A. We have been given informal legal advice, which is very helpful, but which is only available in the lawyers very limited free time. We've done all the preparations and research ourselves, and the drafting of legal documents, and we represent ourselves in court. Meanwhile McDonald's have a full legal team, with a QC (Queens Counsel), at least two solicitors, and several clerks.
Q. Are you intimidated by the opposition and the Courts?
A. We were at first, partly because everything is so complex, and nobody ever explains all the procedures. At one hearing we asked the Judge to explain something, and he said that if we didn't understand then we should be represented by solicitors. He didn't tell us how we should pay for them!

The Court deliberately mystifies all the procedures so that ordinary people don't stand a chance on their own. We were criticised for not being aware that when we exchanged witness statements they should include ones written by ourselves about our involvement, nobody had ever told us that we had to do this, we were just expected to know. The longer the case goes on the more determined we are not to give in even though it is extremely frustrating to be fighting McDonald's on their own terms in the courts, which are obviously there to protect the interests of the rich and powerful.
Q. When is the case going to be heard?
A. It has been set to begin on 28th February 1994, although we are now applying to have the date put back, because of the huge number of additional witness statements which McDonald's served in January. We are also appealing against a number of pre-trial decisions including the no jury one. If these appeals succeed the trial date may be put back
Q. What if you lose at court?
A. We will get a bill for any damages set by the court, and a bill for McDonald's costs, which are likely to be at least a quarter of a million pounds. Obviously as we're both unwaged there's no way we could pay that, so we would probably get made bankrupt. In any event its unlikely that McDonald's will get any money from us. McDonald's are also asking for an injunction if we lose, to stop us from handing out leaflets about them. If we then continued to hand out leaflets we could be jailed.
Q. Do you think you will be successful at the trial?
A. Although the trial itself will be a difficult battle, because of our legal inexperience and the vast difference in resources available to each side, we feel that the case has already been a success on our side, because McDonald's have failed to get us to apologise, or to stop the distribution of information about their practices, which obviously was the sole intention of their starting these proceedings. They have also failed to prevent us from getting to trial, where the details of their practices will be aired in public, and whether they win the trial or not, their image is going to take a battering. They're obviously becoming more worried about this, which is why their Vice-President now attends the court hearings.

McDonald's, and other multinationals, will be looking at this case to see if they can get away with using the libel laws to censor any criticism of their practices. It is important that the campaign against McDonald's is stepped up to show them that people will not be intimidated. It is vital that whatever the outcome of the case, people continue to distribute leaflets and put out information to counter the line put across by multinationals. Free speech must be defended.

---