STUFF FOR TEACHERS

These are a few suggested lesson plans and cross curricular topic links to use in the classroom - providing kids with an alternative world view.
The importance of 'education' cannot be underestimated and the potential for it must not be undervalued. Equally the design and style of 'education' does not have to be staid and learning should be fun, made as easy as possible and accessible to all. We hope that what we present here would NOT in fact be viewed as 'education' or 'learning' but instead be seen as an alternate world view where everyone from 'Year 0' upwards can make a positive contribution to people, the environment and animals.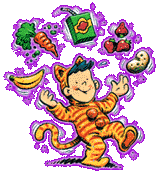 The section is aimed at ALL educators - school teachers, parents, youth groups etc - and can be used in the home, classroom, playscheme or youth centre. Obviously the section is not definitive - these lessons are only a guide, they can be easily adapted to suit alternate needs and can be further developed upon 'completion'.
Additionally many of the suggestions involve developing a committment to a long term project. They can be individually or group run (preferable) and if necessary, the management of the project should prove easy to transfer to other partcipants.
Have fun!
If you have any further suggestions to this section, or wish to provide feedback on it - email to: info@mcspotlight.org