01/08/02 . JEAN-MARC AUBERT . Associated Press . N/A

Jose Bove Released From Jail

VILLENEUVE-LES-MAGUELONE, France - Activist farmer Jose Bove emerged from a French prison Thursday, thinner but smiling under his trademark mustache, after serving 40 days for ransacking a McDonald's restaurant.

The anti-globalization crusader met his cheering supporters outside the prison in the southern town of Villeneuve-les-Maguelone, championing a new cause — the defense of prisoners' rights.

Bove, 49, was serving out the remainder of a three-month sentence for using farm equipment to tear down a McDonald's being built in the southern town of Millau three years ago, a protest against globalization.

Bove, who staged a hunger strike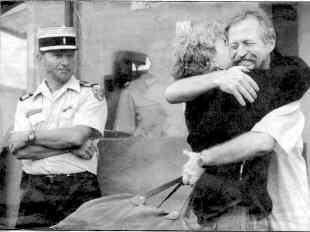 during most of his prison term, told 1,000 supporters that his incarceration was tolerable but expressed sympathy for his fellow inmates.
"I'm thinking about those who are going to spend many months behind the walls of this prison," Bove told supporters, some with banners that read, "Solidarity with Jose."
"I can tell you they are suffering," he said. Bove said he had received about 2,000 letters a day from supporters, "which isn't the case for most of the prisoners, who are lonely and abandoned."
The radical farmer subsisted on water and orange juice alone from the start of his incarceration in mid-June until the national Bastille Day holiday on July 14, his lawyer Francois Roux said recently. Roux said Bove had lost about 10 kilograms (22 pounds).
Bove plans to leave in a few days for a vacation on his small sailboat with his companion, Ghislaine Ricez.
The farmer shot to fame in August 1999, when he and nine others used farm equipment to dismantle the McDonald's in Millau. But their protest only delayed construction of the restaurant, which is in operation today.
However, Bove faces other charges that could force him to return behind bars.
A court in the southern town of Foix is expected to announce Sept. 16 whether Bove must return to prison for up to 14 months for his role in ripping up genetically modified crops in two separate incidents.
The mustachioed sheep farmer is the leader of a campaign against what he calls "foul food" — including genetically modified crops and fast food.
Bove, a leader of the Farmer's Confederation, has recently been advocating other causes.
Last spring, he met with Palestinian leader Yasser Arafat in the West Bank town of Ramallah in defiance of Israeli soldiers who surrounded Arafat's compound. Bove was then ordered deported by Israel.

related links

- French Activist Gets Jail for McDonald's Attack
- French Farmer Jose Bove Sentenced to Jail
- Bove loses McDonald's raid appeal
- France's Farm Crusader Jailed
- Decision on Radical Farmer Delayed
- press cuttings: McDonald's
- press cuttings: McLibel
- press cuttings: Campaigns
- press cuttings: McLibel film
- press cuttings: related stuff
- press releases & statements
- photo album, cartoons, subvertisements
- interviews, books, plays, reports
- witnesses statements, transcripts, evidence