13/09/00 . Author unknown . BBC News . UK

France's Farm Crusader Jailed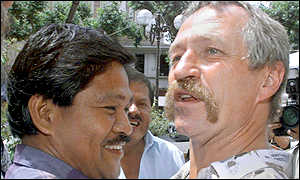 French anti-globalisation campaigner Jose Bove has been sentenced to three months in prison for his attack on a McDonald's restaurant in August 1999.
The sentence, handed down by a court in the town of Millau in southern France, is tougher than that demanded by the prosecutor at the July trial of the radical farmers' leader.
Mr Bove and nine other members of his farmers' union, Peasant Confederation, were accused of attacking a half-built McDonald's branch in the town, which lies in a region famous for its pungent Roquefort cheese.
They were protesting against US duties on French cheeses.
Eight accomplices were given sentences ranging from fines of about $300 to two months in prison, suspended, while the ninth was acquitted.
Mr Bove, who has become a folk hero in France for his crusade against globalisation, told the court that the attack was aimed at highlighting the injustices of the world trading system.
He became the figurehead of a protest movement in Seattle last November, when he participated alongside thousands of Americans in demonstrations outside a World Trade Organisation (WTO) meeting.
His supporters have again gathered in Millau, where they are scheduled to hold an open-air debate and screen a documentary about the events surrounding Mr Bove's trial.
During July's proceedings, thousands of anti-globalisation protesters, environmentalists, trade unionists, students and other campaigners crammed into the market town to voice their support.
Mr Bove said at the time he would appeal against a guilty verdict.
The campaigner, a heavily-moustached sheep farmer, has been compared to the French cartoon character Asterix, who fights against the legions of the Roman Empire.

related links

- McSpotlight campaigns section: France
- press cuttings: McDonald's
- press cuttings: McLibel
- press cuttings: Campaigns
- press cuttings: McLibel film
- press cuttings: related stuff
- press releases & statements
- photo album, cartoons, subvertisements
- interviews, books, plays, reports
- witnesses statements, transcripts, evidence