01/03/02 . unknown . People's Daily . Beijing, CHINA

30 McDonald's Golden Arches to be Removed in Beijing's Cleaning Drive

The big "M", the eye-catching yellow sign outside many McDonald's restaurants in Beijing, will soon disappear, to comply with regulations for exterior signboard management recently implemented by the Beijing municipal government.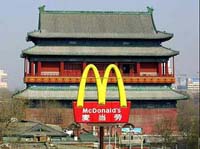 All signboards standing independently outside restaurants must be dismantled, and about 30 of the 83 McDonald's in Beijing have separate exterior signboards which are soon to be pulled down.
The massive task of dismantling the forest of outside signboards began this week, with the aim of making the 2008 Olympics host city less cluttered and more beautiful.
Beijing began dismantling other familiar signboards in Beijing' s parks and green areas on Wednesday night.
The Beijing municipal government recently decided to put a ban on large free-standing signboards on pavements and roofs.
The rules are meant to improve the face of this city of nearly 14 million people, and complied with the wishes of a large number of residents.
"At the moment, there are too many signboards, and they are too messy," a municipal official told the Beijing Morning Post. "It affects the image of the city, and locals have reacted angrily," the official said.
Meanwhile the Beijing Evening News quoted an unnamed employee at McDonald's as saying the decision could have a negative impact on its business.
The employee told the paper that fast food belongs to the category of impulse buys, and that many people only enter fast food restaurants after they have happened to come across them.
Therefore, signboards have so far been an important tool for McDonald's in attracting customers, the staff member told the paper.

related links

- press cuttings: McDonald's
- press cuttings: McLibel
- press cuttings: Campaigns
- press cuttings: McLibel film
- press cuttings: related stuff
- press releases & statements
- photo album, cartoons, subvertisements
- interviews, books, plays, reports
- witnesses statements, transcripts, evidence