18/12/02 . Bruce Horovitz . USA Today . USA

McDonald's first quarterly loss echoes troubles of fast-food industry

Struggling McDonald's said Tuesday that it's about to report its first quarterly loss ever -- just days before a new CEO is to be handed keys to Mickey D's.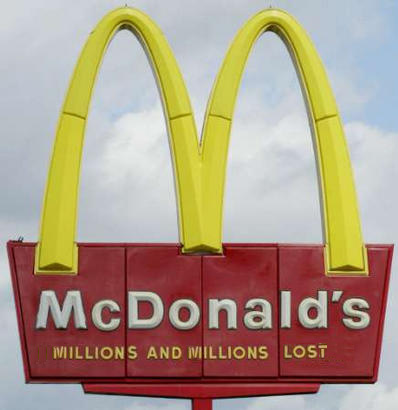 For McDonald's, these are humbling times. The 47-year-old fast-food giant, once regarded as the global model of a dynamic market leader, has deteriorated into a laggard stock with little growth potential. McDonald's stock tumbled 8% on Tuesday, down $1.39 to $15.99.
McDonald's shares are off 48% from their 52-week high. Its market value has fallen more than $18.5 billion.
Some say McDonald's headaches mirror the fragile state of the entire $105 billion fast-food industry: * Diageo finally rid itself of ailing Burger King last week -- but for nearly $1 billion less than it had hoped. * Wendy's recently warned that it is tightening its 2002 projections.
Industry analysts say McDonald's, in particular, has failed to keep step with key cultural trends that reflect a society increasingly interested in food that's healthier, tastier and more family-friendly.
''A large number of Americans have moved away from McDonald's,'' says Allan Hickok, analyst at U.S. Bancorp Piper Jaffray. ''Society has changed, but McDonald's hasn't.''
The company says its worldwide sales for the 11 months ended Nov. 30 were down 2%. Sales for October and November were off 1.6% compared with the same two-month period last year.

related links

- press cuttings: McDonald's
- press cuttings: McLibel
- press cuttings: Campaigns
- press cuttings: McLibel film
- press cuttings: related stuff
- press releases & statements
- photo album, cartoons, subvertisements
- interviews, books, plays, reports
- witnesses statements, transcripts, evidence