McLibel Support Campaign
P R E S S . R E L E A S E . 15/04/05

McCampaigners 'stick the boot' into McDonald's 50th anniversary celebrations (April 15th) - and stomp on a McBirthday cake outside the corporation's Euro-HQ

Whilst campaigners celebrated 20 years of world-wide anti-McDonald's campaigning, the global corporation admitted it will not be running any 'commercial campaign' to mark its half-century!



Friday 15th April marks 50 years to the day since the McDonald's Corporation it opened its first store in Des Plaines, Illinois, USA in 1955. Today, at 12 noon, Friday 15th April, the 'McLibel 2' stamped on a McBirthday cake at McDonald's Euro-HQ in Finchley, North London. Dave Morris crushed the cake with 'PUBLIC OPINION' written on his shoe, Helen Steel held a placard saying '50 YEARS OF McJUNK, McJOBS, cLITTER' alongside campaigners with a banner saying 'CELEBRATE 20 YEARS OF GLOBAL RESISTANCE TO McWORLD'. *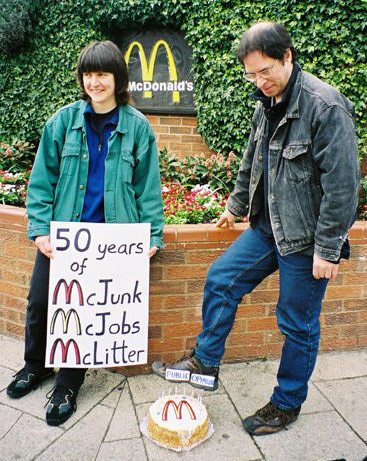 *  Images of the protest are available to the media from www.gettyimages.com/editorial

Campaigners were also celebrating last night's broadcast (April 14th) by the BBC of the new 'McLibel' documentary, the McLibel victory over the UK government at the European Court of Human Rights on February 15th, and 20 years of growing world-wide anti-McDonald's protests since the first International Day of Action vs McDonald's in 1985.

Similar protests are planned in the USA (including Chicago) and other countries - there has already been a 30-strong protest in Seoul, Korea. The McLibel Support Campaign is also holding an Unofficial McBirthday Party event in Central London tonight, which includes the launch of the special Spannerfilms double-disc DVD of the film and other embarassing material about the burger chain.

McDonald's Abandons Its Own Mc50th Promotions!

In an article from the Chicago Sun Times - 'McDonald's gives its 50th the silent treatment' (April 11th) - the paper reports that: 'McDonald's spokeswoman Lisa Howard dropped a bombshell about what we assumed would be a momentous ad campaign spotlighting McDonald's 50th anniversary, which officially is Friday. "There is no 'commercial' campaign associated with the 50th anniversary.... We are focused on our employees around the world for the 50th, celebrating opportunity together."


The McLibel 2 said this week:

" McDonald's has been counting its profits for 50 years, but society has paid the price - as proven by the damning judgements we won against it in our court case in London. Are the public really impressed with 50 years of junk food, McJobs, litter, idiotic advertising, the targeting of children and cruelty to animals? We think people should look forward to McDonald's funeral, not its birthday."

" The real celebration should be that for the past 20 years, since the first ever International Day of Action Against McDonald's in 1985, there has been growing public concern and debate about the business practices of the fast food industry. And growing opposition. "

" Anti-McDonald's leaflets  initially given out in thousands when McDonald's sued us hoping to halt their distribution - are now distributed in millions! In opposing 'McWorld', many campaigners are working for a future without Corporations - a society based not on profits and power, but in which people control all the resources and decision-making themselves. "

- Helen Steel and Dave Morris - The 'McLibel 2'


More info:
· the film and DVD: info@spannerfilms.net / www.spannerfilms.net
· the case and campaign: www.mcspotlight.org

Media Release ends
............

McLIBEL BACKGROUND NOTES

McDonald's Corporation issued writs against the McLibel 2 on 20th September 1990 alleging they had been libelled in the London Greenpeace factsheet "What's Wrong With McDonald's? Everything they don't want you to know". The McLibel trial began 11 years ago on 28th June 1994, and on June 19th 1997 - after a trial lasting 313 days (the longest trial ever in England) - Mr Justice Bell ruled that McDonald's marketing has "pretended to a positive nutritional benefit which their food (high in fat & salt etc) did not match"; that McDonald's "exploit children" with their advertising strategy; are "culpably responsible for animal cruelty"; and "pay low wages, helping to depress wages in the catering trade."  The McLibel trial was described by commentators as 'the worst Corporate PR disaster in history'.

On March 31st 1999 the Court of Appeal added to those damning findings. Lord Justices Pill, May and Keane ruled that it was fair comment to say that McDonald's employees worldwide "do badly in terms of pay and conditions", and true that "if one eats enough McDonald's food, one's diet may well become high in fat etc., with the very real risk of heart disease." However the Courts ruled that the McLibel 2 had still libelled McDonald's over some points and outrageously ordered them to pay £40,000 damages to the $35 billion-dollar company. The McLibel 2 have refused to pay a penny.

On February 15th 2005 the European Court of Human Rights in Strasbourg ruled that the McLibel trial had breached Article 6 [right to a fair trial] and Article 10 [right to freedom of expression] of the Human Rights Convention. This ruling only underlines the significance of the above rulings made against McDonald's, which were made despite all the odds stacked against the defendants.

Background ends...




contact details

McLibel Support Campaign
5 Caledonian Road, London, N1 9DX, UK.
Tel/Fax: +44 (207) 713 1269
E-mail: mclibel@globalnet.co.uk
Web: http://www.mcspotlight.org



related links

- press releases & statements
- press cuttings: McDonald's
- press cuttings: McLibel
- press cuttings: Campaigns
- press cuttings: McLibel film
- press cuttings: related stuff
- The McLibel Trial
- witnesses statements, transcripts, evidence