This Week in the Media
November 9 - 25 November
Each week McSpotlight will be updated on how the world's press has covered McLibel, McDonald's and multinationals in general.

Union Slams 'Greedy' McDonald's
Press Release
26th September 1996
[GMB criticises McDonald's over 'miserly' rates of pay and award scheme]
---
McMarathon Nearly Over
BBC Wildlife Magazine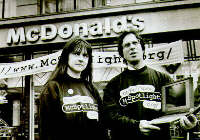 12 November 1996
After nation's longest case, judge to say if burger chain was libelled.

The longest-ever British court case, involving two environmental activists and the McDonald's Corporation, is in its final stages, with a verdict expected at the beginning of the New Year, writes Jim Carey. After more than two years of intensive cross-examination, Mr Justice Bell will decide whether criticisms published in a 'What's Wrong With McDonald's' pamphlet have been legally proven. Regardless of the verdict, the libel trial has provided a unique on-the-record examination into the environmental impact of the world's largest fast-food business.
---
McColemanBalls
Various media
Kilroy programme
BBC 1
Friday 15th November 1996

A 'classy' prostitute: "I don't deal with the McDonald's end of the market."

Stand-up Show
BBC 1
Saturday 16th November 1996

"McDonald's is the only place in the town centre where you can have a piss in the afternoon."

Time Out
13th November 1996

"I've kept the seat as a souvenir, I'm rather attached to it."
Gary Foxley, who was stuck to a toilet seat in McDonald's for five hours after youths smeared it with superglue.

East Grinstead
November 1996

David Ward (Regional Communications Officer of McDonald's UK) to Richard Tassell of the East Grinstead Coalition Against the McDonald's Plan, when asked when the McDonald's drive-thru is due to be opened: "You're one of those London Greenpeace bastards. I don't have any obligation to speak to you."



---
WEBBING THE BARRICADES [excerpt]
by Garret Keogh

Wired magazine
UK
December 1996


But hey, it's not all doom and gloom down on the online barricades. The McDonalds-baiting McSpotlight site (www.mcspotlight.org) is a fine blueprint for all protest sites. Even if it's only to cause Mucky D's management to froth at the mouth (who mentioned mad cows?), this site compels. Make that Compels. McSpotlight not only dishes out the dirt via a fast FAQ, it also encourages participation by offering daily news updates, debating rooms and a truly inspirational frames-based guided tour - complete with translation - of McDonalds' official Web site. It nurtures a like-minded community by arguing a case, rather than bludgeoning with rhetoric. Ronald must be choking on those gherkins.



---
The Guardian
20th November 1996; UK
NOTES & QUERIES

Question: Which countries do not have any McDonald's restaurants?

Answers so far include:


India & Nepal do not have McDonald's because the Hindu faith prohibits the eating of cow produce. I doubt Libya has any. Iraq, Iran, North Korea and other anti-American states are probably McDonaldless.

Afghanistan has yet to succumb to McDonaldism.

McDonald's head office in London says they operate in 91 countries. There are 121 other countries in the world.

---

The following is a reply from the McLibel Support Campaign - expected publication of this column is Wednesday next week.

McDonald's don't have 'restaurants' in any countries. Because of the synthetic, unhealthy character of their products - which are high in fat, sugar and salt, and low in fibre and vitamins - and the emetically garish interior, I don't think any McDonald's outlet can be called a 'restaurant'. Incidentally, there are approximately 25 countries in which people are actively campaigning and protesting against McDonald's.

McLibel Support Campaign
5 Caledonian Road
London N1 9DX
Tel/Fax 0171 713 1269
E-mail: mclibel@globalnet.co.uk
---
CPEA
November 1996; Net
McDonald's/Gateway2000 Ad Campaign
[Details of McDonald's and Gateway pact ensuring the portrayal and use of dead animals continues in mainstream media]
---
Big Mac Turn-Around: Third Time Lucky
Cornwall News; UK
November 1996
[McDonald's finally get planning go ahead - but only on advice from barrister]
---
Army Gives Big Mac Its Marching Orders
Evening Standard; UK
21st November 1996
[McDonald's jams the airwaves]

"MoD pulls plug on McDonald's radio"

Thursday 22nd November 1996
Colchester; UK

A radio system used at a drive-in restaurant has been ordered off the air - after apparently interfering with military channels.

Staff at the McDonald's drive in restaurant did not have a nice day when the men from the ministry arrived to pull the plug on their new system.The radio headsets were delivered to the fast-food outlet just a few weeks ago, but it is understood the Dutch manufacturer had not checked whether they could cause interference with other British channels.

There were claims today that the radio sets had interfered with the military channels - and left puzzled soldiers from the Garrison getting orders for Big Macs and fries.

A spokesman for McDonald's today said restaurant staff had been shocked when ordered to stop using the radios, but stressed they have received no complaints about the radio headsets from the Garrison.

"The Radio Communications Agency called in to see us on Tuesday and asked us to stop using a particular frequency for our radio, system so we did," he added.

A spokesman for The Radio Communications Agency said "The equipment was unlicensed and operated on frequencies which interfered with other users."




Last Week in the Media
29 October - 8 November - McLibel in Time magazine
18 October - 28 October - USA Today Special McLibel Case Nears End.
10 October - 17 October - Squall details McDonald's nefarious links with Police intelligence units.
3 October - 9 October - Viz and McDonald's; McMunchies and McLibel trial becomes the longest civil case in British history - Guiness Book of Records
26 September - 2 October - How we met, Helen Steel and Dave Morris, in the Independent.
19 September - 25 September - Big Mac Chews Out Little Mrs Munchie.
12 Septmeber - 18 September - Adopt-A-Store and SLAPPS.
22 August - 11 September - Mark Thomas' regular site to hang out: McSpotlight. 7 August - 21August - Big Mac in big trouble over late openings.
18 July - 6 August - Last year, 96% of Americans ate at McDonald's; more than half the American population lives within a three-minute drive of a McDonald's...
4 July - 17 July - How corporations are "flame-broiled" on the Net.
27 June - 3 July - The second anniversary of the McLibel Trial is celebrated in style.
20 June - 26 June - Squall reveals how McDonald's is "gobbling the rainforests".
13 June - 19 June - The New Statesman runs a very positive article on McSpotlight
30 May - 12 June - McDonald's 'used police sources' in McLibel case, reports the Independent
23 May - 29 May - Red Pepper exposes Japanese racist myths about 'healthy' McDonald's food
16 May - 22 May - A quiet week: 'An American Cowboy in London' profiles McLibel witness Howard Lyman
9 May - 15 May - 'McMyths about McJobs': Strange Spectator article defends low-paid work for young people
2 May - 8 May - Busy week, with McLibel featured on satirical TV show and analysis of McDonald's stranglehold over the UK
24 April - 1 May - Highlight of the week: George Monbiot's Guardian on the absurdities of Britain's libel laws
16 April - 23 April - Howard Lyman causes a storm on the Oprah Winfrey Show when Oprah pledges to give up burgers
5 April - 15 April - A quiet week, but with interesting legal analysis from Legal Action
16 March - 4 April - The BSE in beef crisis explodes, the media is saturated with McDonald's decision to ban British beef
9 March - 15 March - Sensational five-page colour feature in the UK's Guardian Weekend on the McLibel Trial and McSpotlight
2 March - 8 March - The world's press takes an interest in McSpotlight - articles in USA Today, Observer and Legal Action
24 February - 1 March - Lots of mentions for McLibel. McSpotlight makes 'Global Hero' for March 1996
17 - 23 February - Great headlines, media people: 'Big Mac's Critics Connect On Line', 'Burger Giant Under McSpotlight'...
11 - 16 February - Our first week - not much press. Little did they know...

Other This Weeks